Graševina is certainly the most represented variety of white grapes in the viticulture of Croatia. It is a variety whose origin is not yet known with certainty. In Croatia it was once called "grašica", but the Croatian linguist Bogoslav Šulek is responsible for its current name. The wine has also taken over the continental vineyards of Croatia. Graševina earned its popularity by having a good and regular yield and an even better grape, must and wine quality. This quality varies depending on the area, for example, the must in the eastern vineyards of Croatia has on average 2 or more % sugar and a slightly lower titratable acidity, while in the western vineyards it's the opposite. Graševina wines therefore differ in composition, but they all have in common a recognizable pleasant aroma, a greenish-yellow color and a fresh and harmonious taste.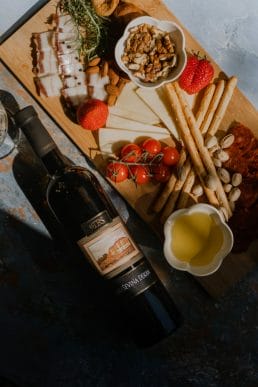 Graševina, contrary to misapprehensions, is of excellent quality in the right regions. That's when we get to our Dekan graševina. The vineyard is located in one of the best locations for a vineyard: the Dekan site, after which it was even named. The vineyard there is 35 years old and has an area of 1 hectare. The favorable conditions and the exceptional location of this vineyard allow us to produce premium grapes for a wine of exceptional quality. The wine has an intense golden yellow colour, the aroma is dominated by fruits like peach, lemon and apple and the wine is characterised by a pleasant freshness and a slightly bitter taste. It's an irresistable graševina with a nicely structured body; a serious but also elegant wine.
The Dekan graševina is an excellent choice with numerous dishes. These include sea and river fish (e.g. trout, carp or catfish), seafood such as oysters alla busara, white meat dishes, but also soft and light cheeses such as the delicious Brie.
The serving temperature of Graševina is between 9-10° C (48.2 °F-50 °F).
If you are not convinced of the quality of our graševina, and especially of the Dekan graševina, your only option is to come and taste it. You can do that in our cellars in Ilok, in a wine dispensary in Sesvetama, or you can send an inquiry to our mail address info@vinarija-trs.com.